This post will be in English and Dutch.
English
I just started a new wiki: The Christmas and New Year Wiki. The soul purpose of this wiki is to make as many people in the world happy by wishing eachother merry christmas and happy new year. You can contribute to this wiki. Write your own wish for christmas and new year. Start with the wish in your own language (or dialect) and try to translate it so we all can enjoy your wish. Invite your friends to write their wish on this wiki too.
Dutch
Ik ben net begonnen met een nieuwe wiki: The Christmas and New Year Wiki. Het enige doel van deze wiki is om zoveel mogelijk mensen in de wereld blij te maken door elkaar een vrolijk kerstfeest en een gelukkig nieuwjaar te wensen. Je kunt zelf ook bijdragen. Schrijf je eigen wens voor kerst en nieuwjaar. Schrijf eerst de wens in je eigen taal (of dialect) en probeer het dan te vertalen zodat we allemaal kunnen genieten van jouw wens. Nodig vrienden uit zodat zij hun wens ook op deze wiki kunnen zetten.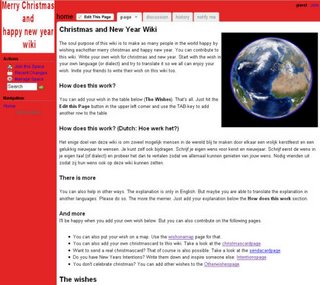 O ja. Ik stuur dus geen kerstkaarten dit jaar. Maar ik wens iedereen uit de grond van mijn hart prettige kerstdagen en een gelukkig nieuwjaar.